Free Upgrade to Windows 10 Ends in a Little Over a Week
7/20/2016
The free Windows 10 upgrade offer ends on July 29 and will not be extended. After then, Windows 10 Home will cost $119 and Windows 10 Pro will cost $199.
Microsoft pushed out an update to GWX with a great big countdown clock to prod Windows 7 and 8.x users into action.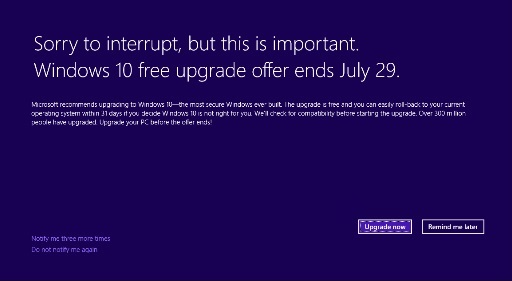 If you don't want to upgrade to Windows 10 (perhaps because you have some software or a device that is not supported on Windows 10, or maybe you just don't want to learn a new OS), Windows 7 will still be in extended support until January 14, 2020 and Windows 8.1 will be until January 10, 2023.
If you're reasonably certain you'll want to upgrade in the next year, but you are not ready to upgrade by July 29th, you should claim your upgrade now, then roll back to your current operating system.
If you upgraded to Windows 10 for free, then you can still reinstall Windows 10 on that device for the lifetime of the device. Once Windows 7/8.1 is upgraded to Windows 10 and it is activated, the device will have a Digital Entitlement for Windows 10. That means Windows 10 can be clean installed on that device in the future and remain activated.
A lot of my customers did not want to upgrade, many because they had business software (or QuickBooks prior to version 2015) that will not run on Windows 10. One of my customers is a franchisee and their franchisor's software was not ready to run on Windows 10. The franchisor not only just upgraded their software to run on Windows 10, but is requiring all franchises to upgrade to Windows 10. Another who's business runs on QuickBooks decided to pay the large cost to upgrade their version of QuickBooks and wants to get the free upgrade to Windows 10. So I have been spending long days upgrading a lot of systems to Windows 10.
For those who are ready to make the upgrade before the free offer expires, here's how to do it with the least hassle.
1. Creating an Image-based Backup
Creating an image-based backup is optional but highly recommended. Everyone should have a full backup anyway, and this is as good an excuse as any to make that happen. You can use Windows 7 Backup, which has the ability to create an image backup, or any other backup software that creates a complete image. (Getting Windows 7 backup in a Home edition of Windows is tricky.)
2. Have Another Administrator Account
The Windows 10 installer will disable the Administrator account (if it is not already disabled). Make sure that you have another account that is a member of the Administrators group and you can log on with that account before starting the upgrade.
3. Check for an updated system BIOS
This step is not optional; many failed upgrades have been traced to an out-of-date BIOS. If you have software from your computer manufacturer (such as Lenovo ThinkVantage System Update) that can check for and install a BIOS date, use it to check for and install any available BIOS update. If not, check the BIOS date (run Msinfo32.exe and check the reported BIOS Version/Date—not SMBIOS Version—or boot the system and go into the BIOS setup utility), then compare that version with website for the PC maker (or, for homebrew machines, the motherboard maker) and see if there's an updated BIOS. Pay special attention if your BIOS is older than July, 2015 and the latest version is newer.
4. Make sure that your system has all critical and important updates installed
The Windows 10 upgrade will check for and install Windows updates on your existing OS before installing Windows 10. I had a couple systems that had not been turned on for a few months and had not recently installed Windows updates hang checking for Windows updates. (Windows Update, especially on Windows 7, is well known for sometimes taking many hours to check for updates, but the Windows 10 upgrade was stuck checking for updates and never reported any progress for hours.) I had to cancel the Windows 10 upgrade, manually run Windows Update and install all the important updates, then start the Windows 10 upgrade (including downloading again).
5. Create Windows 10 installer USB flash drive media
This step is optional, you can download and run the installer directly, but if you have to start the upgrade over (and I had to on a few already) you will have to download the installer again and it takes hours. You will need a USB flash drive that is at least 4 GB and can be completely erased.
6. Run Setup from the installer USB drive
Don't boot from that USB drive. You need to upgrade from within Windows to qualify for the free upgrade. From the USB flash drive you created earlier, run Setup.
7. Continue with installation and activation
Accept the license agreement. The install will check for updates for your existing OS. After installing any updates, Windows 10 will install and will reboot a few times.
It will eventually ask you to log on. On your first log on, you will have an opportunity to personalize Windows 10 and disable things like a lot of the data that gets sent back to Microsoft and disable some of the new apps.
Professional Services
If you need assistance with upgrading, IT Professional Services can help. Please contact us.
Find out more about our Managed Care service.
To find out how vulnerable your network is schedule a free network security analysis today.